April 7th, 2023

Category: press
Belgian biotech companies DeuterOncology and Radiomics combine their expertise to improve cancer therapy
---
DeuterOncology joins forces with Radiomics to develop a clinical tool to predict patient response to treatment.
Belgian biotech companies DeuterOncology and Radiomics combine their expertise to improve cancer therapy
DeuterOncology joins forces with Radiomics to develop a clinical tool to predict patient response to treatment.
DeuterOncology obtains SPW grant funding
Liège, Belgium, April 07, 2023 – DeuterOncology, a Liège-Based (BE) biotech company, is pleased to announce it has successfully been awarded the Win4Company grant by the Wallonie recherche SPW. The clinical-stage drug development company has been granted 478,000 EUR for establishing a partnership with a Liège-based biotech, Radiomics,  for the development and validatation of an AI-based imaging biomarker as a potential companion diagnostic for a novel best-in-class deuterated MET kinase inhibitor (DO-2) as an optimized personalized cancer therapy.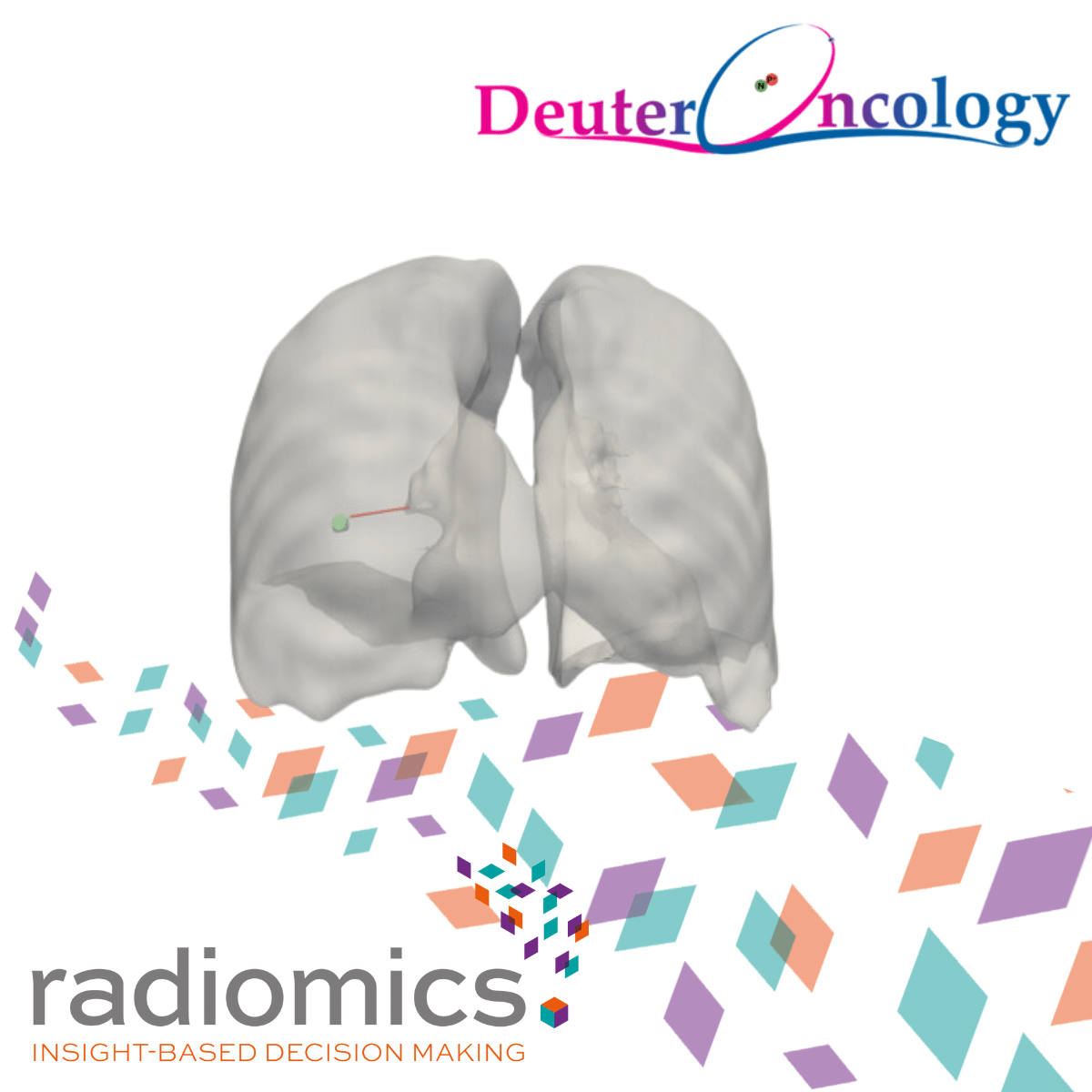 The grant brings together the expertise of two Belgian biotech companies to develop AI-based CT imaging for identifying subsets of lung cancer patients that have MET gene alterations. The grant will also enable DeuterOncology to improve the determination of clinical response to DO-2 by the accurate determination of tumour volume change.
"We are excited to receive this grant from the SPW, which will enable us to collaborate with Radiomics and develop cutting-edge AI-based CT imaging technology"- said Dr. Timothy Perera, CEO of DeuterOncology. This breakthrough technology will provide oncologists with an easier way of identifying patients with MET oncogene driven tumours using standard imaging and reduce the need for painful biopsies and timeconsuming testing to identify potential responders.
"We are very pleased to establish this local collaboration with DeuterOncology and to be part of such a ground-breaking trial which could have global implications. Optimizing decision making is fundamental to improving patient treatment, allowing medical professionals to make informed decisions will drastically improve drug development trajectories" – Dr Carlos Meca, CCO of Radiomics.This collaboration will combine DeuterOncology's expertise in cancer research and genomics with Radiomics' expertise in advanced AI-based image analysis technology to develop a powerful tool for predicting patient response to treatment.
This grant is an important milestone for DeuterOncology and demonstrates the company's commitment to developing targeted therapy that will improve patient outcomes. The joint project will help expand the strong drug development eco-system that is being created in the Walloon region.
DeuterOncology is a clinical-stage biotech company focusing on the development of a first-in-class dual MET and RAS pathway inhibitor for targeted cancer therapies. The company has generated preclinical validation of its lead candidate DO-2, a novel, highly selective, brain penetrant deuterated MET and RAS pathway inhibitor that was licensed (worldwide rights outside of greater China) from OCTIMET Oncology NV and originally licensed in 2017 from Janssen Pharmaceutica. DeuterOncology has initiated a phase I clinical study to validate DO-2 as a best-in-class MET kinase inhibitor as suggested by the strong preclinical data package.
Based in Liège, the company was founded in September 2020 by Dr. Timothy Perera. DeuterOncology works together with an established broad network of collaborators across the world to achieve its mission of bringing new solutions to cancer patients.
For more information about DeuterOncology's research, please visit our website at www.deuteroncology.com.
For more information on the ongoing clinical trial with DO-2, please visit ClinicalTrials.gov
About Radiomics
Radiomics is an imaging research organisation which focuses on AI powered healthcare, with a unique expertise in Radiomics, Deep Learning & Federated Learning applied to oncology and other therapeutic areas.
Founded in 2016, Radiomics leverages its proprietary technology to support pharma and biotech companies in all phases of clinical development to extract the maximum information from clinical trial images. Based in Liège, Belgium, Radiomics offers advanced image analysis services to support both prospective and retrospective clinical trials to better understand observed treatment effect.
With collaborations in place with several hospitals and pharma companies,  Radiomics is dedicated to its mission to enable the right diagnosis & treatment for the right patient through quantitative imaging and machine learning.
For more information about Radiomics' research, please visit https://radiomics.bio
Contact
PERERA, Timothy
CEO
+32473558353