Our mission is to improve the lives of cancer patients by enabling the right diagnosis, treatment & follow-up for the right patient. Radiomics.bio harnesses the power of quantitative imaging and Artificial Intelligence to deliver accurate and robust clinical decision support systems based on standard clinical imaging.
Make precision medicine a reality via AI & image analysis. 
Radiomics.bio believes that something is missing in today's way of looking at solid tumors. The picture below shows that each tumour has a different reaction to the treatment. Taking the intra-patient and intra-lesion heterogeneity into account, can drastically improve care.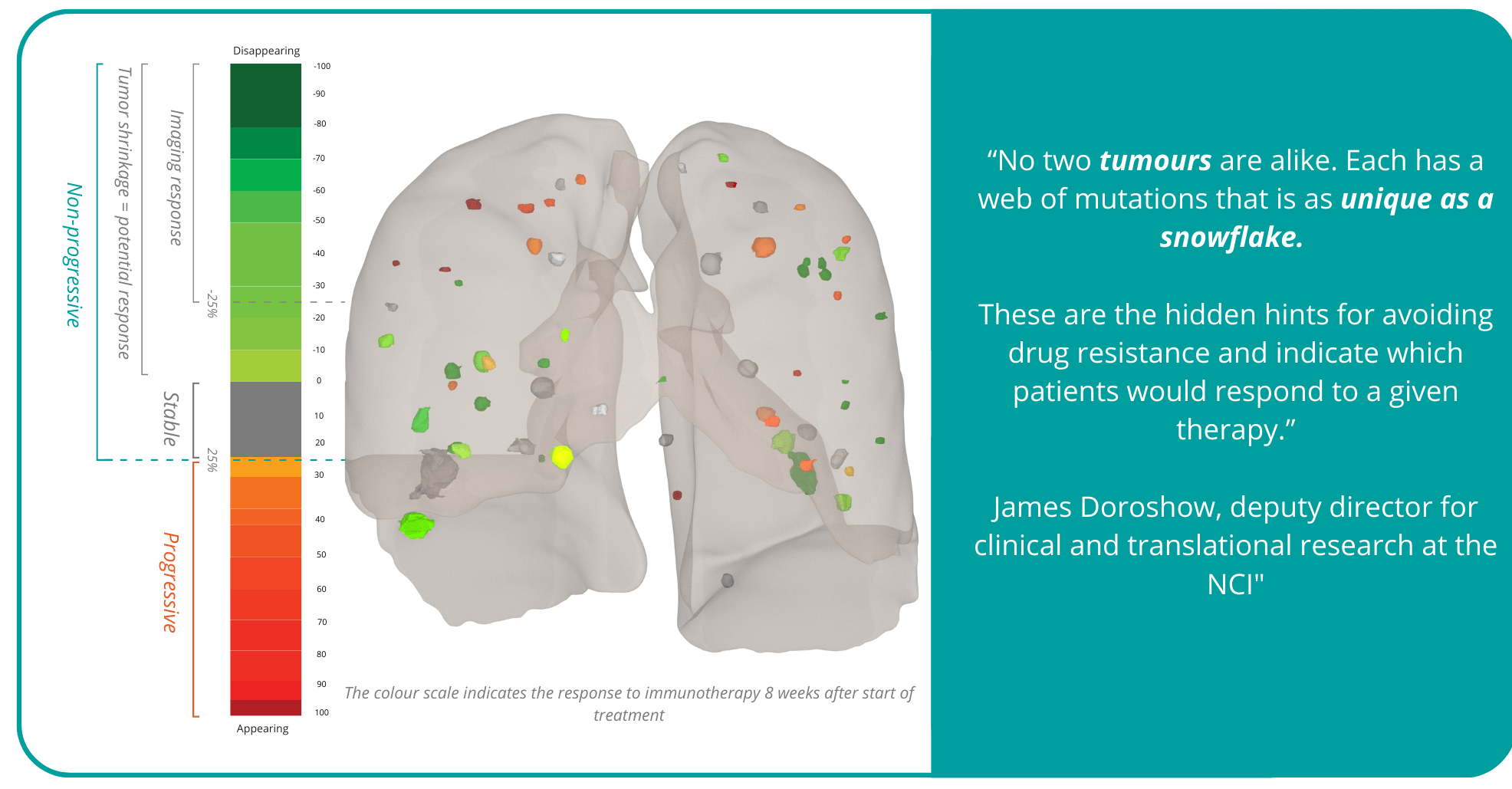 To achieve its vision, Radiomics.bio focuses on:
Accurate diagnosis
Detailed therapy evaluation
Sensitive prediction of treatment effect
Precise follow-up of treatment impact
In any disease area where imaging is used, Radiomics.bio adds value to the decision-making process. 
Our
team
is the number one asset of the company. It is diverse, talented, complementary, empowered & supportive to each other. Each member has an intrinsic drive to be part in the challenge of transforming the world for patients, where every second counts. Attracting & developing talent is critical. Everyone will grow on the journey. 
We know why we are here, have clarity on the corporate strategy and goals, as well as solid expectations for every role. We take responsibility for delivering on them. Based on such clarity and strength, everyone feels empowered to apply one's own judgement.
 
In our fast-paced environment, being in sync is paramount. Communication is therefore frequent, open, honest, respectful & direct. We value constructive feedback, "good and bad" and never hesitate to "address the elephant in the room".
 
At Radiomics.bio we celebrate our successes, no matter big or small, to drive both team bonding and personal development